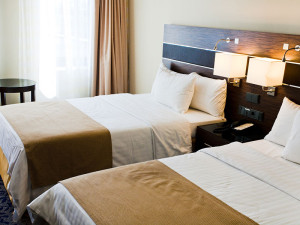 For more information on hotel assistance, contact Dr. Elisabeth Potter.
American Cancer Society (ACS) Accommodation Program
This program is for patients who receive treatment at least 50 miles from their place of residence. One caregiver is welcome to travel with the patient. At least two weeks of advanced notice is usually required. The program only applies to lodging Monday through Thursday.
Contact the American Cancer Society at (877) 227-1618 for more information. Dallas hotels have partnered with the American Cancer Society to offer breast cancer patients accommodations.
Joe's House
Joe's House is a nonprofit organization that assists cancer patients and their families with lodging preparations near treatment centers. For more information, including an online nationwide list of places to stay, visit www.joeshouse.org.
Seton League House
The Seton League House is a 38-room bed-and-bath facility designed to provide families a place to stay while a loved one is hospitalized. A program of the Seton Fund, rooms are available for $20 per night but are offered to anyone regardless of affiliation or ability to pay.
To make a reservation, please call (512) 324-1999. Seton League House is staffed seven days a week. Hours are 8 a.m. – 7 p.m. on weekdays and 9 a.m. – 7 p.m. on weekends.
Because the number of rooms is limited, priority is first given to families of patients in Seton's intensive care units, other Seton facilities, and then other Austin hospitals. A limited number of rooms may be available for persons having early morning medical exams or day surgery.
Hotel Accomodations
Courtyard Austin NW Arboretum
9409 Stonelake Blvd.
Austin, TX 78759
(512) 502-8100
JoDee Minter – Area Director of Sales  (512) 502-8100 ext. 603  jodee.minter@interstatehotels.com
Mention that you are a patient of Dr. Elisabeth Potter in order to receive special pricing.