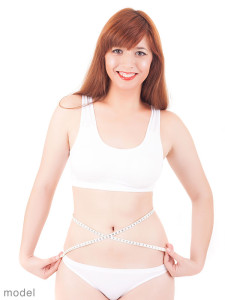 Liposuction, or lipoplasty, is a surgical procedure which enhances body contour by reducing excess fat in targeted areas. By directly removing fat cells, liposuction sculpts localized parts of the body that may not be resolved with weight loss programs.
While a healthy diet coupled with consistent exercise is the ideal solution for significant and long-term weight loss results, there are often stubborn locations on the body that retain deposits of fat. If diet, exercise, and weight loss have failed to eliminate fat from certain desired areas, then liposuction surgery may be a viable option.
Liposuction can be performed on the abdomen, arms, back, buttocks, calves, chest, neck, hips, and thighs. The surgery does not remove excess skin, and is often performed alongside other surgical procedures.
Dr. Elisabeth Potter will evaluate your lifestyle, medical restrictions, and cosmetic goals to determine whether or not liposuction is an appropriate treatment.
Procedure
Liposuction is normally performed as an outpatient procedure which does not require overnight stay. Local anesthesia, as opposed to general anesthesia, is used exclusively on the area of the body where the procedure will be performed.
Liposuction is conducted when thin tubes called cannula are inserted beneath the skin and extracted via suction caused by a high pressure vacuum. The incisions made to insert the cannula are inconspicuous and do not leave noticeable scars. The duration of the procedure varies between one and three hours, depending on the size and quantity of targeted areas.
There are several variations in methods of performing liposuction. In Tumescent liposuction, smaller cannula are used to insert an anaesthetic solution to the tissue before the fat cells are extracted. This minimizes discomfort and bruising following the procedure. Liposuction may also be assisted with low-energy laser or ultrasound waves to liquefy the fat before it is removed through the cannula.
Recovery
During the healing period, a specialized compression garment must be worn in the treated areas for several weeks. This form-fitting garment helps to reduce bruising and swelling which is common for seven to ten days after liposuction. Immediately following the operation, it is also normal to experience fluid drainage from the incisions. These effects generally disappear within two to three weeks. Patients should avoid strenuous exercise during this time period. Most patients will return to work within one week, but it may take months before the swelling resolves fully and the final results are visible.
During your consultation, Dr. Potter will craft a unique surgical plan based on personal details regarding your medical history, lifestyle and ultimate cosmetic goals. Questions regarding operative time, recovery, risks, benefits and results will be addressed in detail on an individual basis at your consultation to ensure that you are fully informed and comfortable with your plan.
If you're interested in learning more about liposuction, or any of the procedures Dr. Potter performs, contact Dr. Potter through the online contact form, or call 512-867-6211.