Epionce Skin Care & EltaMD Sunscreens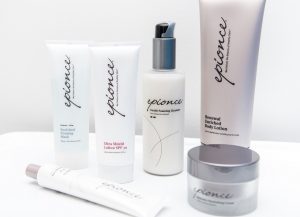 Healthy skin is beautiful skin, and that's why our aesthetic experts have carefully researched and selected skin care products deeply rooted in the Science of Skin Care. In its healthiest state, your skin – a natural protective barrier – will fight signs of aging and heal faster than unhealthy skin. To address your individualized cosmetic goals, protect your skin and keep it looking healthy, we trust Epionce skin care and EltaMD sunscreens.
Epionce and the Science of Skin Care
Epionce is backed by more than 20 years of research. All Epionce clinical research and product testing is conducted at independent research organizations and NEVER on animals. Equally impressive, research data is published at medical conferences and in scientific journals. Formulated by a clinical dermatologist using a special blend of botanicals, Epionce promotes healthier, younger looking skin and was rated the #1 best topical skin care by the Aesthetic Industry Awards. Full of antioxidants, barrier boosting cholesterol, ceramide and free fatty acids, Epionce continues to impress in the following areas when compared with other popular brands:
Fine lines and wrinkles

Dark spots and discoloration

Rough and uneven texture

Dry and scaly skin

Blemished and problem skin

Clarity and radiance
Caring for Sensitive and/or Newly Treated Skin
Epionce is non-comedogenic, paraben-free, sulfate-free, fragrance-free and even gluten-free. It is safe for any treated skin, and we recommend using it to maintain any cosmetic results you have already achieved. You strive to eat right, get plenty of water and rest for your body, so it makes perfect sense to also incorporate a safe, trusted skin care regimen to maintain your newly achieved skin care goals. And even if you've never tried non-surgical aesthetic procedures, Epionce is still a great way to improve the appearance of your skin.
EltaMD Sunscreen 
Cancer-causing UVA/UVB rays damage the DNA of skin cells and prematurely age them. To protect your skin's health, we recommend EltaMD. With more than 25 years of experience formulating wound healing and skin care products used in hospitals, burn centers, rehab clinics and care centers, EltaMD is highly recommended by the Skin Cancer Foundation.
Selecting the Right EltaMD Formulation
EltaMD is a sensitivity-free, paraben-free, fragrance-free and non-comedogenic formulation. Whether you have normal, combination, dry, post-procedure or super sensitive skin, our aesthetic experts will identify the right products for you. With EltaMD's oil-free formulas, even skin plagued with acne, rosacea and hyperpigmentation can be protected. And even better, we carry both tinted and untinted formulas.
Book a Consultation
Visit with one of our aesthetic professionals to select your perfect Epionce skin care combination. Choose cleansers and moisturizers, products that correct and boost skin, and lotions to renew and fortify your complexion. Complete your skin care regimen with the right EltaMD sunscreen formulation and say hello to better looking skin.