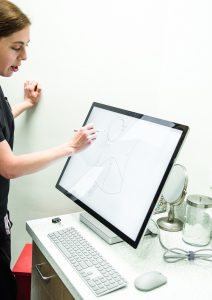 I now offer "virtual meetings" for prospective patients living outside of the Austin area who are searching for the right reconstructive and/or cosmetic surgeon. Nothing is more important than your health – except the decision with whom you will entrust it. A virtual introduction is both convenient and cost-effective since there are many additional expenses associated with travel. When looking for the right plastic surgeon, obviously skill and training are of the utmost importance, but it's also imperative that you feel comfortable and compatible with me and the work I will do.     
Here are a few questions I encourage you to ask when interviewing anyone, in person or online, for the very important position of your plastic surgeon:
"What is your training?"
Your plastic surgeon's training is top priority, so this question is one of the most important you will ask. Board certified with the American Board of Plastic Surgery, I offer many reconstruction and cosmetic options ranging from implant-based surgery to natural breast reconstruction. When considering any reconstruction procedure, and most especially DIEP flap reconstruction, it's imperative to find a physician who has been properly trained and is experienced.  Having completed my microsurgery fellowship at MD Anderson Cancer Center in Houston, and performing well over 750 DIEP flap reconstruction procedures to date, I am pleased to offer the most advanced option – the gold standard of reconstruction – to all of my potential patients.
"Will I make the final decision?"
What do you already know about breast reconstruction?  If you're like most newly diagnosed breast cancer patients, you're probably on overload.  And if you've already searched the internet, I'm sure you've discovered the overwhelming amount of information out there. My job is not to talk every woman I encounter into any type of breast reconstruction. Instead, I see my purpose as more of an educator first, providing you with the full range of options – and ultimately, if we work together, offering you the most advanced reconstructive techniques available based on your individual case. You will always make the final decision.
"Are there other patients I can talk to about their reconstruction and/or cosmetic experiences?"
Being from out of town, I always recommend that you do your homework where your potential surgeon's reputation is concerned.  There are many online unbiased review boards offering insight into patient experience.  Additionally, you may always visit and/or follow my Facebook page for patient experiences as well.  
I invite you to take a look around at my website.  I've gathered the most current up-to-date patient resources and links as well as provided detailed descriptions of the services I offer. My office is happy to set up a virtual introduction for us so that we can discuss the questions and concerns that you may have and get to know each other better.  I look forward to meeting you!
Contact us today or request an appointment online.