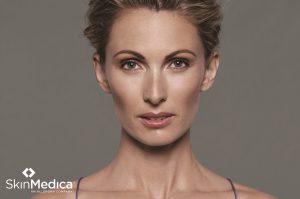 Looking to improve the quality of your skin? We have great news! Along with our stellar lineup of fillers and injectables, we're now offering a comprehensive beauty experience. With the addition of SkinMedica® Chemical Peels and skin care, we have your skin covered!
What are chemical peels?
Chemical peels accelerate the natural exfoliation of your skin.  They are in-office procedures that must be administered by a licensed medical professional.  Chemical peels aid in correcting uneven skin tone; erasing fine lines and wrinkles; and reducing acne, acne scarring, sun damage and textural irregularities. Results will vary by individual, but chemical peels are perfect for almost every skin type.
Why get a chemical peel?
Chemical peels address the majority of imperfections caused by the natural aging process and UV sun exposure.  Even more impressive, they can enhance the texture of your skin and improve skin irregularities caused by acne scarring and pigment changes. There is minimal downtime, and you'll appreciate a more youthful, renewed appearance.
What peels do you offer and how do I determine which one is right for me?
We currently offer both the Vitalize Peel® and the Rejuvenize Peel™ – perfect for mild, moderate, or severe skin imperfections. Your initial consultation with our experts will determine the perfect treatment plan for you.
Chemical Peel Before & After Examples *
What can I expect afterwards?
Initially, your skin will feel tight for the first 48 hours after your treatment. Beginning on day three, your skin may start to peel or flake. On average, this process takes 3 days, and the amount of redness and peeling varies from patient to patient. The peeling process will reveal "new" skin underneath and will be sensitive. This skin is prone to sunburn, so sun exposure should be limited for at least one week, and a broad spectrum mineral based sunscreen with an SPF of 30+ should be used. Although you will see results after just one treatment, over time – and with each additional peel – you'll see a cumulative, more dramatic difference in skin quality and texture.  Individual results may vary.
What can I do to limit further damage and maximize treatment results?
When used daily, our vast array of SkinMedica® skin care products further revitalize your skin and perfect your complexion. This skincare regimen includes essentials like cleansers, moisturizers, and sunscreens, as well as other skin care products addressing tone, texture and age defense.  Most importantly, to enhance the results of a chemical peel, we suggest SkinMedica® Retinol Complex, the industry's gold standard for anti-aging.  
Ready to improve your skin?  Call today for your consultation and renew your complexion with SkinMedica®.