Cindy's Story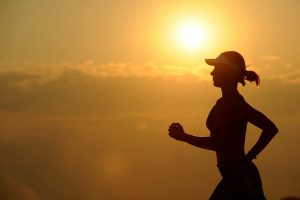 In 2008, I was diagnosed with breast cancer.  I was 44 years old. My diagnosis of unilateral DCIS was shocking to my husband and me, considering that I was a very fit runner, maintained a healthy diet, and never, ever smoked.  The worst health issue I'd had prior was appendicitis.
My tumor was too large for a lumpectomy, so I decided on a mastectomy.  My reconstruction of choice was one of autologous tissue, but the bad news was that I was in such good physical condition that I had zero tissue for donation. The irony!  My best option was unilateral mastectomy followed by immediate LD flap reconstruction. This meant implants. I did not want implants, but that was my only option for creating a new breast. After completing the initial surgery and the subsequent tweaking surgeries, I was done, and the result was pleasing. I spent weeks in physical therapy, regained full range of motion, and was back to my running.
The problems began within two years of my initial surgery.  My body began rejecting the implants.  I had several bouts of profound anemia and then was diagnosed with a thyroid autoimmune disease, all of which wrecked my physical fitness and put me in a constant state of crushing fatigue.  During this same time, my breast reconstruction began failing. Over the following few years, my mastectomy reconstruction developed capsular contracture which led to constant discomfort and some deformity.  My natural breast, which had received an implant for symmetry, also experienced problems. Its fascia failed, causing that breast to drop. These failures resulted in extreme asymmetry which led to chronic backaches. This also meant I was constantly focusing on finding ways to hide my asymmetry.  It was physically and emotionally exhausting.
Finally, in 2017, I couldn't take it any longer.  I was tired of the pain, tired of not being able to run, tired of trying to hide my appearance, and tired of being tired.  I interviewed four plastic surgeons, including Dr. Elisabeth Potter, and she was the only one who communicated precisely what had gone wrong with my initial reconstruction and exactly what she would do to correct the failures.  There was no uncertainty. Also, she was the only surgeon who fully explained the severity of the fascia failure in my natural breast and what that meant for the long run. I greatly appreciated her compassionate and forthright communication style and her obvious highest level of knowledge, skill, and experience.  I was most impressed with her personal focus, discussing my issues specifically and uniquely and not as though I was just another case of fill-in-the-blank. She offered real, detailed answers and solutions. Finding Dr. Potter was such a relief because I was able to hand over all control to the person I knew I could trust.
In February of 2018, Dr. Potter and her team removed my implants. The failed LD flap reconstruction was undone, a mastectomy was performed on my natural breast, and I then received bilateral DIEP flap reconstruction.  Dr. Potter fully prepared my husband and me with what we could expect, and she was true to her word. Everything happened exactly as she had explained, including my recovery. After 9 ½ hours, as soon as I was awake and in my hospital room, I asked to see the results. Truly, I was amazed. Dr. Potter had given me absolutely beautiful symmetry, shape, and size. The transformation was astounding.
I am now eight weeks post-surgery and remain amazed and in awe of Dr. Potter's skill.  I chose the right surgeon and have zero regrets. She is a gifted perfectionist. With just this first-stage surgery, Dr.Potter has given me so much.  I can once again wear a simple t-shirt without a second thought! And, already, I can tell that the constant pain and backaches due to the failure of my original reconstruction are gone.  I am so very thankful for and appreciative of Dr. Elisabeth Potter. She is amazing!