October Is Breast Cancer Awareness Month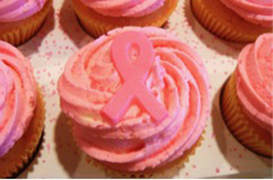 Breast cancer is the most common cancer among women, with 1 in 8 women diagnosed in her lifetime. A good defense is crucial, and comes most easily in the form of knowledge. Being aware of the preliminary signs and symptoms is your best strategy for detecting breast cancer early.
Breast Cancer Awareness Month lasts throughout October. Take a moment to educate yourself on the warning signs, spread awareness, and look for unique ways to support the cause:
1. Practice Early Detection
Doctors recommend conducting monthly breast self-exams in order to detect any abnormalities in the earliest possible stage. According to the American Cancer Society, "When breast cancer is detected early, and is in the localized stage, the 5-year relative survival rate is 100%." Regular self-examinations will help you notice any changes that occur in your breasts. It's undoubtedly a worthwhile habit to build. If you find something concerning, schedule an appointment with your doctor.
Some symptoms to be mindful of include:
Nipple tenderness
A lump or thickening in or near the breast or underarm area
Change in skin texture or enlarged pores around the skin of the breast
A lump in the breast (not all lumps are cancerous and all should be inspected by a doctor)
2. Schedule A Mammogram
It's recommended that women over 40 receive a mammogram once a year. Mammograms should be scheduled a week after your period to avoid tenderness and discomfort. Wear a two-piece outfit as you'll need to remove your top and bra for the x-ray. The procedure only takes about 20 minutes and the results will be ready within 30 days. If the images are unclear or the doctors find something suspicious you'll be asked to take the photos again, usually a week after the first appointment. Learn more about mammograms at the American Cancer Society.
3. Bake Cupcakes
In support of Breast Cancer Awareness Month, KitchenAid has launched 10,000 Cupcakes, One Great Cause in partnership with Susan G. Komen. The campaign asks participants to bake cupcakes, snap a picture of the finished product and share the photo on Twitter or Instagram using the hashtags #10000cupcakes and #donate. KitchenAid will donate $1 for each cupcake photo shared, up to $10,000.
4. Shop
A number of local Austin brands are donating a portion of select pink items for sale to Susan G. Komen Austin and Seton Breast Care Center in recognition of Breast Cancer Awareness Month. See the featured products here.
To learn more about Breast Cancer Awareness Month follow Dr. Elisabeth Potter on Facebook and Twitter.