Recovering from Breast Cancer DIEP Flap Surgery in Style
Once a woman has gone through the experience of a breast cancer diagnosis and surgical procedures, the next step is recovery.  These two women used their life experiences and created something that would help women recover more comfortably.
Cherie B. Mathews, a cancer survivor, created the healincomfort recovery garment.  According to Cherie, standard post-operative instructions called for "loose-fitting clothing," which had limited arm movement and no accommodations for her drain tubes.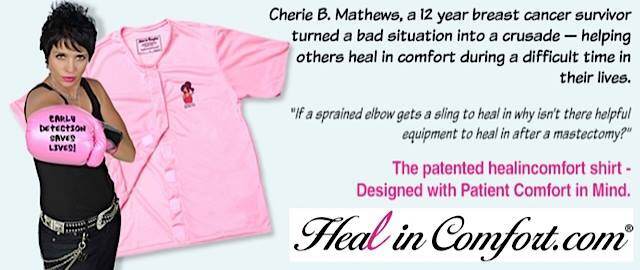 This angered Cherie — so she was inspired to design the healincomfort®shirt, aiding in post-surgical recovery by including hook and loop fasteners for easy dressing; super soft, moisture management material to keep dry and comfortable; and internal pockets to help with drains.
To date, 2,000 healincomfort shirts have been manufactured in the USA and gifted to breast cancer centers across Texas to provide for local women including: Seton Hospital, St. David's Medical Center, Conroe Regional Medical Center, M.D. Anderson, Texas Oncology, Houston Medical Center, Lester & Sue Smith Breast Center and Memorial Hermann. Healincomfort believes in giving back to the community.
Jill Conley, a 36-year-old survivor battling incurable breast and bone cancer, has formed a unique collaboration with fashion designer Dana Donofree, a fellow young survivor diagnosed with breast cancer in 2010. Donofree isn't just any kind of fashion designer. Her company, AnaOno Intimates, sells lingerie for women undergoing cancer treatment, and Conley, a motivational speaker, is helping market her company.
AnaOno's online shopping site features bras fitting "women of all shapes, sizes, and circumstances: from lumpectomy to mastectomy, unilateral to bilateral, flap surgery to implant reconstruction." Donofree would like to add other lingerie such as underwear coordinates, loungewear and sleepwear.
Conley has dedicated her life to the importance of cancer prevention and her belief that "beauty is defined by confidence and kindness and cannot be diminished by illness."
Dr. Elisabeth Potter provides both, bras and recovery shirts, for her breast reconstruction patients.