Say Yes To The Dress – By Val Jones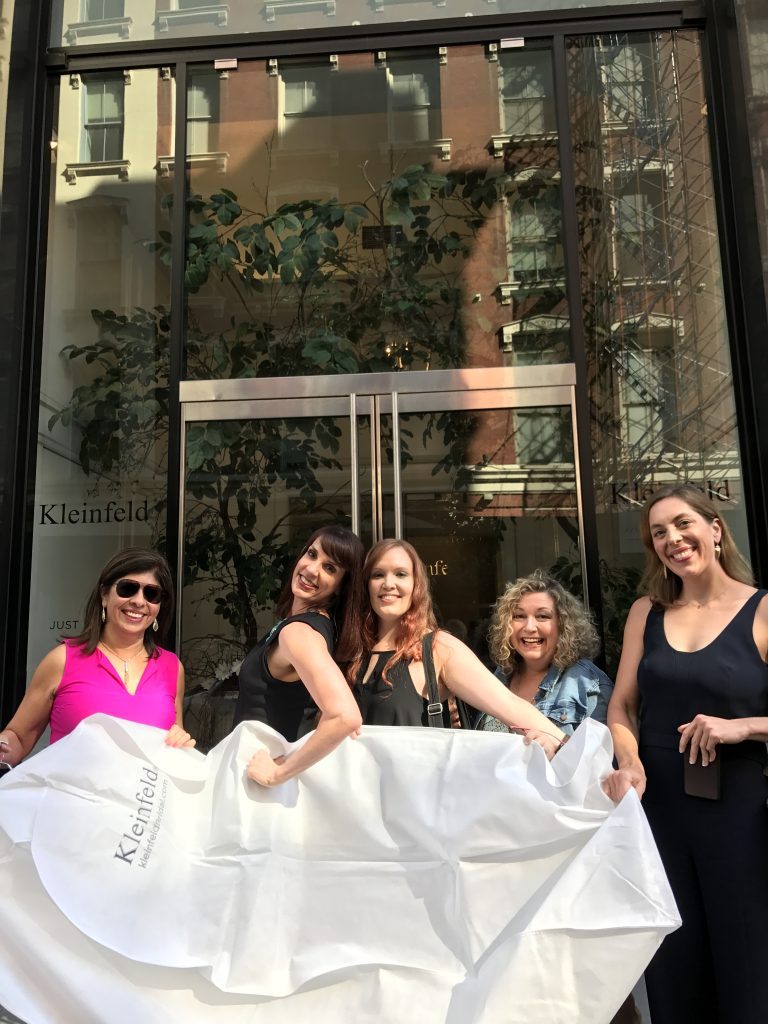 How do you know when you have the best plastic surgeon ever? When she accepts your invitation to be part of your bridal entourage on TLC's hit show, Say Yes To The Dress!
For those of you unfamiliar with SYTTD, it's a reality show about brides-to-be and their dress shopping experiences at Kleinfeld, a world-famous bridal shop, located in New York City. Each bride provides her budget, likes, and dislikes and then gets assigned her own personal stylist to match her up with the perfect wedding gown for her special day. Her bridal party entourage sits on the couch offering their input while she searches for "the one" and eventually walks away with the dress of her dreams. It's a "feel good" show, and let me be the first to tell you, it definitely felt good. Hands down, it was the most unique, exciting and spontaneous thing I've ever done.
SYTTD now features the actual wedding too. Jack and I tied the knot atop a beautiful, sprawling glacier in Alaska. It was, hands down, the most romantic, adventurous experience we've ever shared, and because we experienced it on one of the most popular shows on TV, it enhanced our big day.
A traditional off-camera ceremony (while beautiful and special, I'm sure) would have been over in a flash. In front of the SYTTD cameras, we experienced every feeling leading up to our nuptials, during our ceremony, and even afterwards, very intensely. As the event unfolded, we were continually interviewed together and separately, making our whole day interactive. Honestly, we both feel that it was like couple's therapy – truly deep connections that we wouldn't have experienced otherwise. The same goes for selecting the dress – deep meaningful exchanges with the women who graced the bridal entourage couch. I will treasure the interaction with these women – whom I love, respect and adore – for a lifetime. So many people commented that they felt sorry for us with cameras in our faces, but I can assure you, it was nothing short of amazing. My new husband, Jack, who is a complete introvert, and has an aversion to even his picture being taken, agrees wholeheartedly. After the first 30 minutes, we forgot the mics were there and that the cameras were on.  And it was magic.
How did we land on this super popular show? Super dumb luck. We didn't even apply.
It started three years ago when I contacted Maryann Ray, the owner of Pearson's Pond Luxury Inn and Adventure Spa, in Juneau, Alaska. She's well known in the area for providing the best "Glacier Wedding" package around – complete with inn stay, helicopter transport, wedding officiant, and a ton of other special touches. Since Jack and I have big plans to move to Alaska in a few years, it seemed only fitting to tie the knot on Mendenhall Glacier. But then life happened – my mom was diagnosed with terminal cancer – and we felt it was not the right time to go traipsing off to the Last Frontier.
Fast forward to one blistery hot day in Austin this past July, and out of the blue, I received a Facebook message from Maryann. "Did you ever get married?" she wrote. And then she hit me with the best bombshell ever. SYTTD was looking for a couple who planned to get hitched on Juneau's magical, sprawling block of ice – thirteen miles long and over 5,000 feet in elevation. When I received Maryann's message, Jack and I had already abandoned the Alaskan elopement idea for something a little more low key. We'd solidified plans just ONE week earlier to escape to a quiet beach. Deposits were in place, lodging was secured, and a dress had already been purchased. Even so, a few days later, the casting director called me, and after a phone interview with an additional Facetime session, we were officially set. Just like that, we unbooked our beach rendezvous and rebooked a romantic Alaskan adventure wedding!  We said "YES" to Say Yes To The Dress.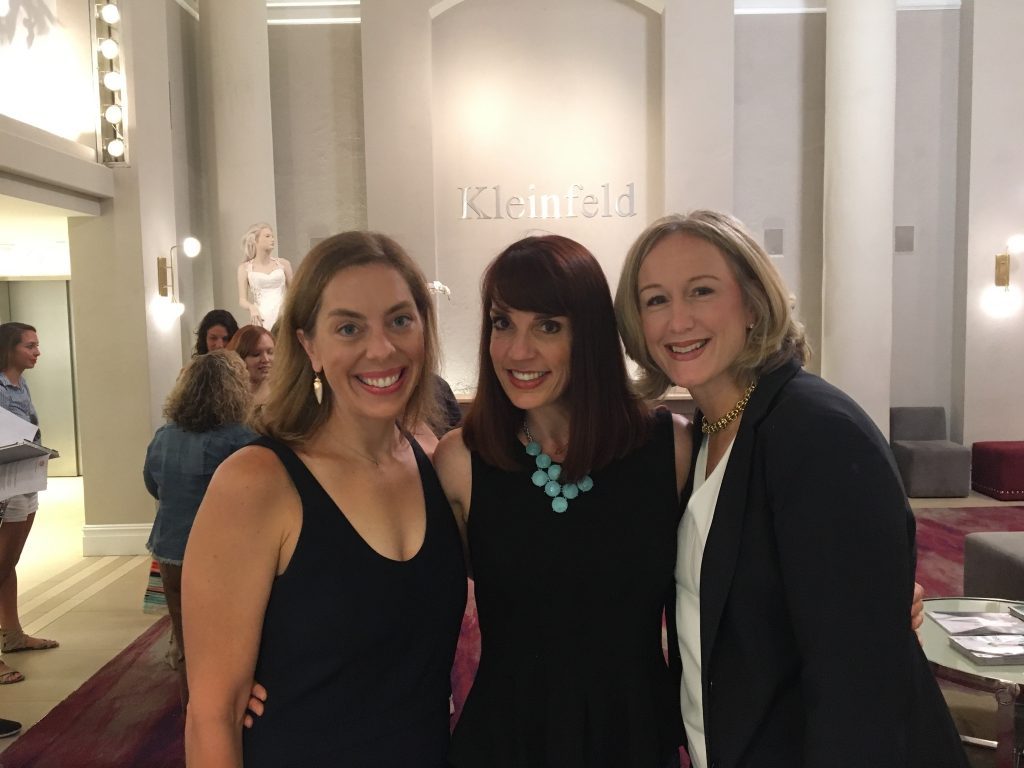 The casting director asked me who I'd like to bring as my bridal entourage. Immediately, I replied that I hoped to bring my cancer care team – my plastic surgeon, Dr. Elisabeth Potter; my oncologist, Dr. Debra Patt; my lymphedema therapist, Angela Wicker-Ramos; my compression supplier and fitter, Hilda Eisele; and my emotional support, Lisa Davis. They are an impressive group of women who've been with me during my darkest hours, and so it felt only right to share my moment in the sun with them.
Jack and I flew out to New York City on the first Thursday in August, and on the following Friday morning, I jumped out of bed, threw on my best pair of skinny jeans, a peplum top and some heels, and caught a cab to Kleinfeld. As I watched each of these women arrive and open the magical doors to the shop, I caught glimpse of their smiles, and I knew I made the right choice.  Dr. Potter and Dr. Patt were brimming with excitement and Angela was head over heels for the tiaras. Hilda quickly made friends with Lisa, and the big day commenced. We were mic'd up, briefed by our director, Norma, a very sincere and lovely woman with a beautiful Scottish accent, and the filming began.
There were tears.
I've failed to mention that I'm 46 and have never been married which is kind of important to the overall story. Destined to be an old lady spinster with a houseful of rescue cats, I wasn't sure I'd ever get married, and when faced with a breast cancer diagnosis, I immediately wondered if I'd see the next Christmas, much less my own wedding day. And here I was 6 years later standing in Kleinfeld, on TV, surrounded with the most important women in my life, selecting a wedding dress for my marriage to Jack on top of a magnificent glacier in Alaska. Whaaaatttt?
Lots of tears.
I can't give away the details of our episode – you'll just have to watch it – but the beautiful moments I shared with these women will never be forgotten. They are permanently embedded in my brain – Dr. Patt, in between my takes, making the rounds in the store encouraging all the other non-televised brides; Dr. Potter's signature smiling face and positivity making me feel beautiful even if the dress wasn't exactly what I had in mind, Angela's adorable tiara obsession, Hilda's hilarious commentary, and Lisa's Southern banter and mental telepathy about which dresses I liked and, well, which ones I didn't. This episode promises to be a glimpse into both my journey and the impact these women have had on my recovery. I hope you'll tune in to see your favorite Austin doctors and my very favorite people on the planet.
I hope you'll say "YES" to watching us on Say Yes To the Dress. Catch it on Saturday, January 13th at 8pm EST/7pm CST on TLC.
Update:  If you missed Val's episode, you can watch it here. Say Yes to the Dress – Season16: Episode Two